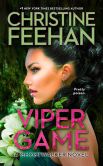 My recent book store adventures continue. Found so many new books last time that a customer thought I was an employee as I walked to the coffee shop. She looked at the pile of books in my hands in disbelief when I told her the books were the ones I was buying. Yeah, I found several books by favorite authors with long series plus a couple new mysteries, including a writer I hadn't read before.
Normally, I don't talk much about the authors I read automatically. But I've been thinking lately about characters and series and why/how they keep their wheels spinning along, a lot recently because my own reviewers keep insisting I write more about my different characters.
The puzzle loomed higher while I was glancing through those favorite authors, trying to decide which book I'd read first. Ended up reading Christine Feehan's
Viper Game
even before Patricia Brigg's new Mercy Thompson. That surprised me, but then, Feehan featured Wyatt & Gator Fontenot's grandmother as a secondary character.
[Yeah, I'm into old ladies. ... Nothing prejudiced about me.]
Romance writers have it the easiest when it comes to keeping their worlds alive, I think. They can give all those relatives, friends, and acquaintances a chance at finding their own "one true love". Mary Balogh and Stephanie Laurens do this well. The children of Lauren's first batch of Cynsters are now in the process of finding love. Balogh is still mining the social network of the Bedwyns. Both of these are writers of Regencies, and thanks to Georgette Heyer and Nora Lofts, I remain addicted to a good Recency, though the number of fictional earls and dukes have long outnumbered the quantity of real ones in British society.
Since when did reality have anything to do with romances, anyway? Still, I don't tolerate writers who don't/can't give a feel for the mental mind set of the Enlightenment lurking in the shadows of privilege.
Back to Feehan. She keeps two paranormal series going--that of her enhanced military operatives and their female counter parts and her benign vampire series, the various Carpathians ruled by Prince Mikhail Dubrinsky.
Viper Game
belongs to the former series, this time featuring the brother of a former "book star". I like how Feehan has toned down the testosterone of her male protagonists; they were getting just plain annoying, even though she writes a good sex scene, around the middle of the series. Feehan's super villain is still lurking in the shadows, but the series may set up a new compound [aka fortress] of enhanced warriors and their mates. She left hints that another of her misfits might find true love--after some exciting adventures, of course.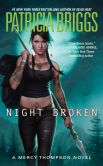 Patricia Briggs keeps her series going by emphasizing one main character, Mercy Thompson, a coyote walker in a world of werewolves. The latest novel,
Night Broken
, features the manipulative former wife of Mercy's werewolf husband coming to live in her house because she's stalked by a volcano demon/god. Added complications come from a fae walking stick which refuses to abandon Mercy and the need to conceal the powers of a half-fae friend. Yeah, Briggs piles a lot of supernatural into the northwest corner of Oregon, and her fans keep coming back for more.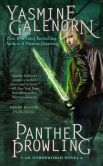 I sometimes think that Yasamine Galenorn's Otherworld series has become too complicated. Still, I keep coming back for more, including
Panther Prowling,
told from the point of view of Delilah D'Artigo, my least favorite of the three sisters featured in the series, though Galenorn has grown the character over the course of the series. Heaps of supernaturals are piled upon the reader in this series with the sisters bouncing around like ping pong balls trying to save Seattle and the human-based earth.
Panther Prowling
takes a breather from their arch-villain and concentrates on a possessed sword rather than a demon lord trying to conquer the mundane, fae, and demon worlds.
One note on Galenorn's books. Her publisher, Berkeley, has decided to stop publishing her Otherworld series after ten years and 18 books, citing decreasing sales [if I remember right]. They want her to concentrate on her two new series. Sounds like she's going to. But...Galenorn has the ending of the Otherworld series in sight and is thinking about becoming a hybrid author.
Interesting. The current publishing paradigm is provided opportunity for established authors as well as pip squeak writers like me to be independent.
All these books are written by master craftsmen. You are going to find tight, complicated plots and three dimensional characters, even among the secondary ones. I recommend the books as do thousands of other fans. Of course, I love Briggs depiction of the Tri-Cities area along the Columbia River.
~~#~~

Interesting & Useful Links:
What can be more useful than a laugh? Chuckles are nice, but readers of L. D. Masterson's blog often get a belly-laugh or two. I usually read her
Hump Day Mish Mash Funnies
on the week-end and don't comment as much as I ought. Maybe a link will make up for my lateness.
Other stuff that pulls me out of my working schedule: The Passive Guy posted some videos on
What the English of Shakespeare, Beowolf, and King Arthur actually sounded like.
Take a click and see how much you understand. [I was thankful for the subtitles.]
Then, I recently had a couple guest posts and interviews posted on various sites. You can take a peek at
Pat Stoltey
,
The Rocky Mountain Fiction Writers
,
Zoe Ambler
, and
Savvy Book Writers
.
~~#~~
I've been whining -- mostly to myself -- since last week. My critique group told me the back story [relating back to my short story, Noticing Jamilla] wasn't working in either of my two attempts to add to Cassy Mae's adventures. It just confused them. Suggestion was to rewrite the whole thing from beginning to the escape and go on to her escape from the Markham's wrath.
And, here I wanted to get a simple short story up so I could collect my Andor stories into a print volume. Oh, well.
But the Triumph!!!!!
After working on the revision of my author website since December, I published it last night...when I should have been writing this blog. Oh, I still have to do a lot of checking and optimization. But it's up! Finally!
You can see it here
, says M. K. Theodoratus, Fantasy Writer.
Sorry to be late in posting the blog this week.