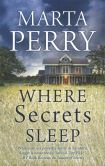 I just love it when a book, especially a mystery, surprises me. At about page 60, I put Marta Perry's
Where Secrets Sleep
down, feeling somewhat disgruntled over the routine characters being presented. The book had lost that "just-one-more-chapter" hook.
The premise of the book is common enough. After a life-shattering encounter, city girl goes to claim a mysterious inheritance in the countryside, in this case Lancaster County, Pennsylvania, Amish country. As soon as the townspeople learn she's staying town, strange accidents begin to occur, and the girl learns her grandmother's death wasn't as cut and dried as first believed. Combine that with a romance as a subplot, and I'm sure you've read that scenario before? I know I have in many permutations.
Oh, the story line was well-paced, and the characters were decently drawn, but they just didn't jump off the page at me. They wakened that "I've-seen-these-guys-before" feeling. Fortunately, I picked the book up again. The stock characters began to act in unpredictable ways even as the sweet romance developed between, Allison Standish and Nick Whiting, in spite of their initial dislike of each other.
None of the pieces Perry uses in her cozy mystery, of the Amish sub-genre, are particularly original, but I found myself turning the pages once I was a third of the way through. The puzzle of the who-done-it and the nice choice of perps was part of the draw as Allison starts to unravel the clues of her grandmother's death. The murder and mayhem created enough tension to keep this reader reading. Though I thought, the good people were a little too good, and the negative ones didn't have enough redeeming qualities to really confuse the reader. Still, the book was a pleasant read on a couple snowy evenings.
Recommended.
Where Secrets Sleep
proves the adage its how you construct your puzzle that makes a mystery intriguing. Yeah, it's all in the execution, and Perry does it well. What's more she's left room for two of the secondary characters to have stories of their own. Guess that make Perry a good recycler of settings, too.
~~#~~
I got a question about the other books I read each week the other day. Last week, I tried to read two books which quickly went onto the trade pile. Don't know why I let them gather dust in my house. Now I'm re-reading Georgette Heyer's Infamous Army, about romance among the English troops at Waterloo. I like Heyer's rendition of Waterloo and have re-read the book, off and on, since the 1970s. The cover price of the edition I'm reading? 99c. Not like The Lord of the Rings which I re-read every year.

~~#~~
Having problem coming up with ideas for your next story, blog, or ???? Susan Gilbert offers some ideas and links than can help you on her Monday Memos blog:
Improve Your Content Idea Generation with Four Tools
~~#~~
What have I been doing?


Well, my website still isn't totally proofed. Haven't really completed Cassy Mae's chapter because I got caught up in research. Haven't really promoted my stuff much either. Last week we were kind ofsnowed in, like it was too cold to go out and do things. Once the errands were done, we scurried back inside. My hibernation stopped short of popping popcorn to snack on while I read. But, I'm beginning to see some dents in my to-read pile.
Must mention my new story,
The Ghostcrow
, is still free on
Smashwords
if you use code:
RP68A.
Have one five-star review on Amazon, but it doesn't really look like many care about whether or not Dumdie Swartz is being chased by a demon.