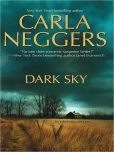 I can't believe, I had never read a Carla Neggers novel before
Dark Sky
. Looks like she has several series going with over 70 books, some reaching best seller status. Maybe it's because she's billed as romantic suspense writer. Granted I read the genre if it's cheap because I all too often drop it on the trade pile, unfinished, because there's too much mush and not enough tension.
Dark Sky
, featuring coffee-guzzling US Marshal Juliet Longstreet and enigmatic Ethan Brooker, delivers a believable romance plus lots of action beyond long bedroom scenes.
The novel is part of a series, but it stands alone. It's starts out when one of Longstreet's arrests gets out of prison and seeks revenge. Longstreet takes care of him, but the plot twists. The first villain is only a tip of the storyline. Another more nefarious set of villains is out to get her and Brooker.
I found the book an interesting, neatly-tied packaged thriller with some extra-nice family dynamics. The Longstreet family is threatened along the read but none of them make easy victims, even the ones not in law enforcement.
Dark Sky
. Recommended if you want a fast, light read with lots of action, some smiles, well rounded characters, and government intrigue,
~~#~~
Just what I need is another excuse to waste more time on the internet but couldn't resist sharing this:
How and why does the internet seduce you and gobble your time? I'll bet it's because there are articles like this one with a list of 300 free things:
300 awesome free things: a massive list of free things you should really know
by Ali Mese. Not only are they free, but some look really useful.
~~#~~
The Ghostcrow is published
The Ghostcrow
is a prequel to
The Ghost in the Closet
, set when Dumdie Swartz was a teen and hadn't yet accepted her ability to see ghosts. Only she has a worse problem than ghost guts sticking to her. A demon notices her special talents and wants to possess her because she's more talented than its current host, the mundane jock bullying Dumdie.
At the moment, you can download the novelette [aka 90 minute read] for free on
Smashwords
using code:
RP68A
[expires soon]
.
Of course, I'd appreciate a review--if you would be so kind. Reviews are like a frosted cupcake for a writer.
Of course, you can order it direct from
Amazon
, if you want to pay. Smashwords allows you to download in mobi so you can get it free on your Kindle.
Oh, the sequel to Noticing Jamilla is going well. I now know where the beginning is.