My Worst Writing Fear: Finding Time to Write
by: Stephanie Burkhart
Thank you so much for having me here today, it's a pleasure to visit.
4
Did anyone read or see Divergent? I picked up the book and had to go see the movie. I loved the world building and the creativity behind the story, but what struck me was how those in power played with a person's fear to test their inner strength and courage. Fear defines a character – look at Four. He worked hard to push past them. Where am I going with this? Fear is real. It makes you anxious. Nervous, even. It plays with your mind.
My worst writing fear is time. I never have enough time. When I started writing, I didn't have such a full plate. I worked 40 hours a week full time as a 911 dispatcher for LAPD and writing on my down time was a good stress reliever. It still is.
Soon the boys came along with gymnastics, dance, boy scouts, cub scouts, and various other extra activities. I've got to find time to exercise for my weight watchers and then there's the house – gotta keep it clean. Finding time to write, edit, and do marketing is a rarity now. I find myself running out of time. And I don't like that. It makes me anxious.
I have stories I'm dying to write trapped in my head. It's a challenge to find a spare minute to type up my handwritten stories. I hate missing deadlines because I didn't have time to polish/edit my writing. I don't like being late. I always strive to be at least 5 minutes early.
So how do you fix it? Where can you buy time from? That's the challenge. Part of my solution is to work on my writing while waiting on the boys at their activity, or working for an hour after they finish their homework. Dedicating a fixed amount of time to a task then moving on seems to help. It also helps to be more realistic and adjust my goals, setting them further out so I can pace accordingly.
Do you have a fear you'd like to share with us today, or tips for time management? Please don't forget to leave your email. I'd love to hear from you.
As you can guess from the banner, this is a Blog Tour organized by Goddess Fish. Comment with your email and you will be in a drawing for an Amazon $25 gift card. Prize will be awarded by a random drawing of all commentators for the tour.
~~#~~
AUTHOR Bio & Media Links:
Stephanie Burkhart is a 911 dispatcher for LAPD.

She was born and raised in Manchester, New Hampshire.

After serving 11 years in the US Army she currently calls Castaic, California her home. Stephanie was married in Denmark in 1991 and has
two young sons. She adores chocolate, is addicted to coffee and enjoys early morning walks.

She's also an assistant den leader for her son's Cub Scout den and is a Boy Scout mom. She writes paranormal, contemporary, and steampunk romance and has two children's books published with 4RV Publishing.
Rosa Getzi lives a life of intrigue at Poiana Brasov with Clement, a werewolf, and Cassandra, the witch. Her past doesn't matter to her – until she discovers what it holds.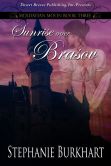 Prince Michael Sigmaringen joins his sister-in-law, Caroline, and the vampire prince, Darius, in a daring rescue, igniting Rosa's desire to find her family. However, all is not as it appears.
Rickard, Rosa's friend, escapes with her. Clement will go to any lengths to get Rosa and Rickard back.
At Darius' fortress, Michael soon discovers Rickard is a new breed of werewolf – one who can cont
rol the change, and Clement hopes to exploit Rickard's abilities.
Michael's courage, strengths, and convictions will be tested like never before. Can Michael and Rosa find true happiness and the rid the lupine haunting of the Sigmaringens once and for all?
EXCERPT: Sunrise Over Brasov
He raised his hand and lowered his hood. An inherent strength filled his profile. Confidence. Concern. Relief.
Rosa's breath jammed in her throat. He looked familiar. He smelled familiar.
"Rosa, it's Michael. Let's go."
"I'm not going anywhere with you."
A frown set against his rugged features. "I don't have time to argue -- now put on a warm dress and cloak."
"No." She was not going anywhere with him despite the relief in his voice.
He sighed and shut the door. Moving with fluid grace, he crossed the room, jerked the door to her closet open and threw the items he wanted her to wear on her bed. "Get. Dressed."
"No." She was determined not to budge, despite the danger outside.
"Why would you want to stay? Clement kidnapped you."
Disconcerted, she pointedly glanced away from his hard stare. What did he mean by kidnapped? Clement didn't keep her behind bars and feed her only bread and water. Rosa could even go into Brasov to shop as long as Lucien or one of the bodyguards went with her.
"I'm going to take you back to your mother."
Her head snapped toward his direction. Mother? Of course she had a mother -- a family, even -- only she had no recollection of them. So why did her body fill with warmth at the mention of her mother by a man she hadn't seen before, but was hauntingly familiar? She pursed her lips, torn by conflicting emotions.
"Caroline and Darius can't keep this up. Now get dressed or I'll dress you myself."
"You'll find me an unwilling subject."
He drew in a deep breath and raked a hand through his thick ebony hair. "You are exasperating."
"So I've been told."
For a larger sample of Sunrise Over Brasov, check out the book's Buy Links.