My to-read piles are sinking as I try sift through the stacks. They no long threaten to topple over. Sometimes, I get rewarded with a discovery -- a book I didn't know I had -- like Jane Haddam's
Glass Houses
. It was tucked under a bunch of paperbacks in the corner, most of which were dumped on the trade-pile after a couple pages of reading. [So, you don't get to know which books they were.]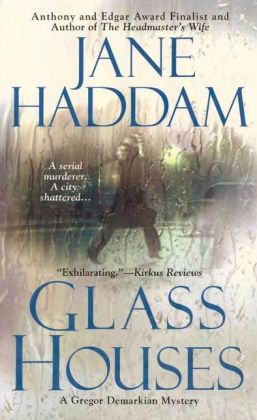 So what's so special about a Haddam book -- besides being a competent mystery with well-defined characters and convoluted plot lines with red herrings galore? Haddam always offers her readers several viable, three dimensional candidates for the perpetrators.
Well, for me, there's a wonderful fantasy rendition of an intricate but gentrified Armenian neighborhood ... with a restaurant the feels like the bar in
Friends
. Not only does everyone know you name, but they know your business as well. The reader gets to know the people too ... and keep tabs on them from book to book.
Haddam's strong point is the character-driven mystery. She often presents a body or two while introducing her cast of possible killers. Then, Gregor Demarkian, the Armenian
"Hercules Perriot", comes on stage as a consultant to the police to find a serial killer, a task complicated by the fact the police detectives investigating the Glass Houses murders are totally unprofessional. One of the key questions in this novel is whether the man arrested near a dump site is guilty or not or just plain crazy.
The mystery gets solved. They always do, don't they? Readers go along for the ride and a chance to solve the mystery before the "big reveal".
The prize in
Glass Houses
, though, isn't finding the serial killer, but the depiction of a British reporter doing a life style piece on miserable, downtrodden Americans coping with crime-ridden chaos and discrimination on the mean streets of Philadelphia while a serial killer's on the loose -- a fact which seems to validate her opinions, at least to herself..
Recommended even if much of the crime-solving isn't realistic.
Yeah, I consider cozy mysteries fantasies.
~~#~~
My writing plods along with the outline for my new Cassy Mae story settling in. Even have two added scenes outlined to add danger to her bus trip to safety. I'm trying to think of a better title than Demon Eyes. Yeah. It's another Andor story. Given how slow I write, people'll be lucky to see it by June -- unless I get my new website up so I can post snippets.
Most of my free time has been eaten my new author's website. I'm in the process of matching line placement and fonts on each page. Sorry I haven't posted a new snippet in a while. I can no longer go into my live site to change anything because my revised site has commandeered my web building software access.
So, here in Colorado, the sun is shining, and I'm planning a demon attack. So, just to celebrate the survival of the one lone pansy in the last snow storm, I'm offering
Doom Comes for a Sold Soul
for free until the18th, Ash Wednesday.
You can visit Smashwords
for a sample. If you'd like to add the short dark fantasy story to your device, there are several formats available. The code for the freebie:
TP76B