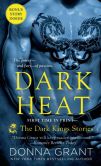 Decided to talk about weres today.
I don't have enough fingers and toes to count all the configurations were-animals take in fantasy, paranormal, and horror fiction. But when I saw Dark Heat, I thought it might offer something different. So I bought Donna Grant's paranormal romance. Think I even did a little happy dance in my head as I hoped to discover another Christine Feehan
or Karen Marie Moning. [Yeah, I know now Grant's got many, many books in print.]
On the rack, the book had a lot going for it, not the least the sexy chest with a dragon tattoo plus the promise of power, fury and passion ... and hunky were-dragons. What's not to like, especially when a newcomer MC is stranded in the Edinburgh airport? Her brother who was supposed to pick her up, didn't show, like her luggage. Got hooked skimming the first chapter and bought the book.
Glad I did. [Surprise? After that opening?] Grant gave me a great idea for recycling the short stories I've been self-publishing to build my so-called author's platform. Yeah, grouping related [or unrelated] short stories into a book isn't new. But Grant did it with so much finesse the stories almost tied together as a novel. The connected plot line managed to add enough twists and turns in a lovely Highlands setting to keep the pages turning.
What I didn't get was well-rounded characters. Oh, the different romancing couples displayed superficial differences, like jobs and hair color, but there was nothing stark enough to move the characters beyond their cliched roles. Nothing to make them stand out in bold relief. No quirks. No idiosyncrasies.
This pip-squeak writer's opinion. A competently written book that doesn't quite make four stars. 3.5 stars

***
What was my big project last week besides writing a 3,500 chapter for my Dark Solstice Turning Point novel about when the Marches of the Far Isles almost shatters under the weight of Half-Elven bickering? I rushed to finish it so I could submit it to my critique group. Yeah, they slammed parts of the execution and my endings. ... I'm bad at endings the first time around. In reference to chapters I mean the hook that leads the reader into the next chapter, but story conclusions also tend to be abrupt the first time around.
That said, the big pain in the behind of my week-end was reworking ... yet again ... my Half-Elven website. My intention was to do a little revision to improve the SEO. I think I improved the meta-tags [even if they're obsolete]. But huge chunks of my week-end disappeared.
You can see what I accomplished by clicking HERE. Actually, you won't see most of what I did, but the uniform type-face, I hope, and fonts should be apparent. I'll make a bet you'll find spots where my "saves" didn't take.
My goal is to raise the site's alexa rating. Once it was 900,000. Now it's around 1,650,000 -- all because I neglected it while building my author website and didn't add new material.